SOFTPHAZ Single Phase 480V pump Motors
Single phase 480volt S.W.E.R electric motors Large range 4KW > 18.5KW
Australian made-Australian designed-Australian supported
PJ&PJ Taylor Pty Ltd have developed a range of large single phase motors designed for pumping in the rural locations for the higher KW range with a unique soft start & current limiting feature in the starting cycle that is site condition dependent.
SOFTPHAZ is NOT a inverter and as such harmonic distortion and in turn compliance to AS2279.2 calculations prior to installation / suitability (as per Australian standards) in not a issue, inverters or VSDs operated from single phase or S.W.E.R supplies have much greater harmonic distortion and as a guide use are limited to 40% of the supply capacity , less on a low fault rated S.W.E.R supply in many cases
NO high starting current
NO Harmonics power to pay for ( 40%  if Smart metering )
NO expensive screened cable required (3)
NO E.M.C glands required (4)
NO programming, site condition dependent
NO de-rating your supply transformer due to harmonic distortion (1) **,
NO open circuit boards that are susceptible to ants , insects and vermin, and can be serviced in the field !
NO line chokes required (2)
NO output chokes required (5)
Type "2" coordinated *
SOFTPHAZ  11Kw 480volt single phase installation
V.S.D 11KW 480volt single phase instalation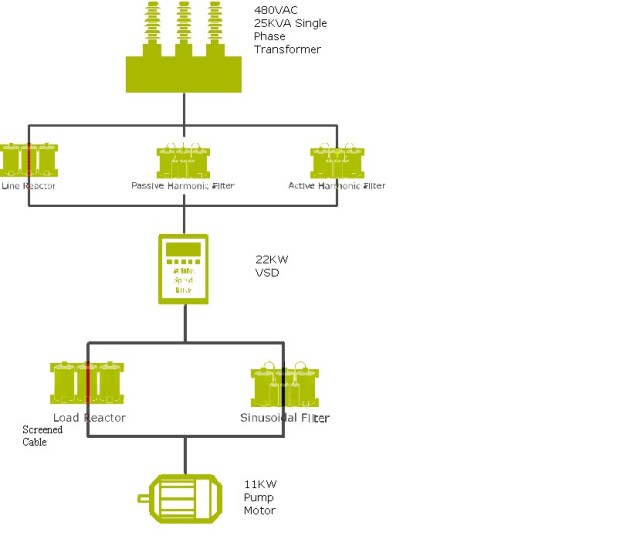 ** Unlike inverters , VSDs drives that can have a max 40% supply rating requirement due to harmonic distortion (AS2279 part 2 ), SOFTPHAZ can utilize 100% of the supply transformer capacity.
*  Rural pumping conditions unlike commercial or industrial are exposed to elements , rodents, ants etc and short circuit faults downstream of the pump starter or controller can result in a expensive exercise if this happens, in most cases if this happens the "let through energy" from the internal supply breaker will limit the internal damage and under a severe fault the unit can be field serviceable.
Designed for NOT adapted too rural power and conditions :
Rural power conditions , if you operate a rural agriculture venture you know that rural power is susceptible to brown outs, drop outs, low voltage SOFTPHAZ is in designed with these field conditions in mind.
Field servicing , Down time important ? uses locally available components that can be sourced locally throughout Australia , no waiting for circuit boards from China or the E.U.
Rural environment , ants , insects, vermin all part of rural conditions in most agriculture ventures , SOFTPHAZ is designed with these conditions in mind.
Features
Smooth start characteristic
Microprocessor controlled
High efficiency
Low noise
Low heat losses
IP55 rating
Flange mount available
No harmonics
Benefits
No need for three phase power if suitable single phase power available
Cost saving in running three phase power ,.. if available.
Standard three phase frame sizes & components used
No need for input chokes
No need for output chokes
Replacement of start capacitors a thing of the past
SOFTPHAZ can use 100% of the supply capacity as no high speed switching devices are used that can distort the supply voltage, VSDs require load + 40% on supply capacity.
Installation operates at close to unity power factor, That means: Lower costs to you
You dont pay for the harmonic power wasted.
Up to 40% on supply load capacity in comparison to some electronic methods due to RMS distortion Screened cable NOT required
Model data
| | | | | | |
| --- | --- | --- | --- | --- | --- |
| Kw | Hp | Frame | F.L.C@480v 1 phase | Controller size(mm) | Part# |
| 4.0 | 5.5 | 132S | 12 | 600x400x250 | SPZ132S4 |
| 5.5 | 7.5 | 132S | 15 | 600x400x250 | SPZ132S5.5 |
| 7.5 | 10 | 160M | 21 | 600x400x250 | SPZ160M |
| 11 | 15 | 160M | 27 | 600x400x250 | SPZ160M11 |
| 15 | 20 | 160L | 38 | 700x400x250 | SPZ160L |
| 18.5 | 25 | 180M | 48 | 700x400x250 | SPZ180M |