Voltrak , balanced output voltages
The "SECOND GENERATION" POLYPHAZ Rotary Phase converter
PJ&PJ Taylor Pty Ltd have been manufacturing the Award Winning  POLYPHAZ  converter in Australia for in excess of 15 years , during this time we have seen some major improvements in machine tool design & control systems placing greater demands on the quality of power to operate these types of machine tools & control systems at their specified performance level.
Site condition adaptable – We dont believe in the concept of " ONE SIZE FITS All " with regards to controllers thats why we use programable controllers with a H.M.I interfaces so settings/ parameters that can be altered in the field by the end user if required and variable programs for demanding applications, its not allways required but things change.
Field serviceable – We dont believe intergrated contollers that incorporate [ capacitor switching – power supply – transducer – C.P.U ] are the best option for the end user , its cheaper and faster to manufacure but the end user has ONE option if one component fails .. take it back to the manufacture.
Fault Text display – Down time important ? this takes the guess work out when something goes wrong.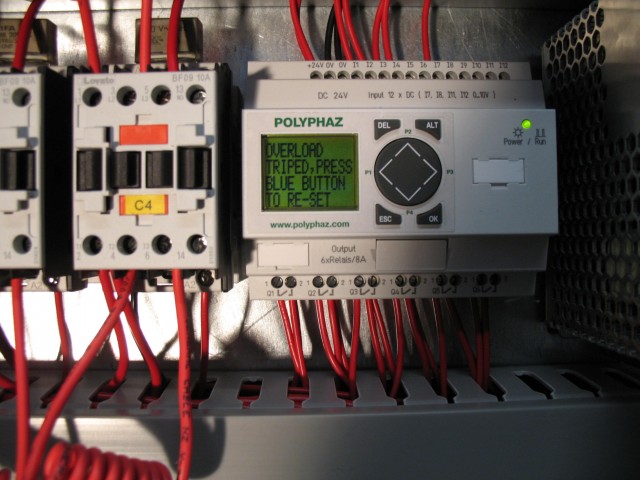 VoltTrak voltage monitoring
The term "Second generation" represents a total re-think of design , with the advent of lower cost microprocessors & ancillary equipment that was out of reach some years ago the time has now come for a redesigned rotary converter that meets the demands of modern equipment.
Basically it works like this, the microprocessor monitors the voltage & phase angle and a binary coded output switches capacitors via contactors either 4 stage (16 voltage levels) on models R/15/ > 6 stage ( 36 voltage levels) on models R/75/ . Similar to the tried & tested auto power factor correction units that have been in use for many years.
The VoltTrak system is really an intelligent rotary converter that compensates the output voltage to match the load , i.e. when the converter is operating at no or low load the output voltage is trimmed to supply a balanced three phase supply thereby offering a saving of up to 30% in power costs when lightly loaded , when load is introduced so to is the output voltage compensated .
Capacitor Switching
We have field tested some variations of this method, i.e. electronic switching of capacitors and have stuck with the traditional method of contactors and limiting the current at switch-on for the following reasons:
Its field serviceable !! intergrated controllers that incorperate: [ capacitor switchiing – power supply – transducer – C.P.U ] are faster and cheaper to manufacture but you have ONE option if one of the components fails .. take it back to the manufacture !!
By limiting the current at switch on this limits the stress on the capacitor and contactor, that's why we give a 3 year warranty on capacitor contactor failure! .
Its a proven method of switching capacitors, ask Siemens or ABB. !
VoltTrak Protection features
The VoltTrak system also provides some key protection & control features that have proved to be vital for rural applications:
Re-start delay on power loss
Supply voltage monitoring
Auto start control available
Start fail lockout
Thermal overload
VoltTrak Maintenance tools
Hour run meter built-in
Visual indiation of faults
Parameter adjustments via end user if required